EXPLORE FAR NORTH QUEENSLAND WITH US
Far North Queensland is a wildlife enthusiast's paradise! Our small group tours explore the rainforest habitat, concentrating on the endemic wildlife found within. We have a firm belief that tourism is the key to the protection and conservation of this World Heritage Area. Our passionate and knowledgable guides are eager to share the Wet Tropics World Heritage Area with you. Allow us to take you on this unforgettable Journey!
SMALL GROUPS
Our group sizes are a minimum of two and a maximum of seven guests. This allows our guides the freedom to focus and cater to our guest's personal interests. Our goal is to create the best visitor experience for our valued customers.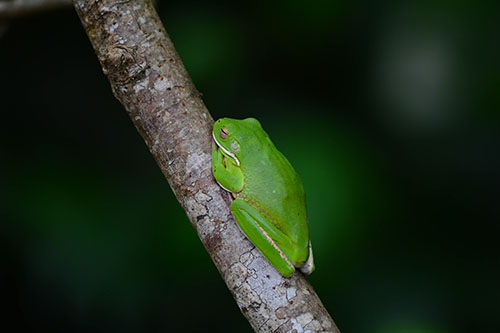 WILDLIFE FOCUS
Our tours have a major focus on observing and photographing wildlife. We are proud to be active ambassadors for the wonderful creatures that call Far North Queensland home. It's not uncommon for us to observe a Southern Cassowary, Tree Kangaroo and Platypus on a single tour!
OUR SERVICE
Our level of service is incomparable to other operators because FNQ Nature Tours understands the priceless value of memorable experiences. Our unforgettable tours are captivating, genuine and authentic. Our team will go above and beyond to ensure that your journey is unsurpassed.
MORE TIME IN NATURE
The trails and boardwalks we access are the longest and most immersive compared with other commercial operators. In addition, many of our nature viewing locations are on private land or reserves for complete exclusivity. This increases the opportunities for our guests to observe wildlife in the wild.
My three day private tour with James was unbelievably good. James is an amazing ambassador for Far North Queensland, and his love for the region is infectious! Having travelled to... read more a number of countries around the world, to be able to say that an interstate 'getaway' is up there with the best experiences I've had, tells you all you need to know. What sets James (and FNQ Nature Tours) apart, is the local knowledge, enthusiasm and personalisation. I was interested in birdwatching and photography, and James was able to deliver on spectacular sightings and photographic opportunities. I can't recommend this operator enough and look forward to my next visit to Cairns - because it will no doubt include a tour with James!

blairwickham


11/23/2020

An awesome trip in small groups that was personalized for what we wanted to see. We travelled in comfort with a very informative guide. A highlight was the night animal... read more spotting. Well worth the tour, which is different from so many of the other tours in Far North Queensland.

Henwood1


11/18/2020

We had such a great day with Kelvin. His knowledge and hosting was exceptional and we loved his passion for his job! From the time we were picked up until... read more we were dropped off we felt like we were in the best hands. Can't wait to visit again soon!

kimberleighs2014


8/03/2020

A really enjoyable day! Our guide Matt was awesome. Very engaging, passionate and knowledgeable. Even our unenthusiastic 13 year old son had a great day. Saw heaps of crocs from... read more babies to the big daddy so the kids were happy. So much beautiful plant life, wildlife and birdlife and really special to see it all in an intimate private but guided experience.

BiancaD568


7/28/2020

My family were visiting my beautiful backyard of Cairns for the first time as a family so naturally, I wanted to give them the best experience possible! FNQ Nature... read more Tours did not disappoint! Matt was an exceptional guide offering vast knowledge of the area and local wildlife. He even showed us how to find the extremely rare and fascinating Peppermint Stick Insect! We loved the whole day and would highly recommend this to any travellers to the area.

bridgettestingray


7/20/2020

James is an amazing tour guide! Right from the beginning he made us feel so welcomed and accommodated transportation for us. He is very knowledgeable and knows the rainforest as... read more if it was his own backyard! Touring the rainforest during the evening was definitely experience with less crowds and different night life. We would 100% recommend James! He is great.

sfajardo10


2/25/2020

Wow we had an amazing trip with James. He is an extremely knowledgeable and upbeat tour guide and made our entire experience a time we will never forget. From seeing... read more two crocodiles, many birds, plants and even mammals, he could answer all questions we had. Not to mention the dinner was INCREDIBLE. We would 10000% recommend this tour and James to anyone in the tropical North Queensland area!

Kim1234567891011111


2/20/2020

In summary, Matt was absolutely fantastic and we would highly recommend this tour for anyone visiting Daintree.

Wow, wow, wow - we enjoyed our tour SO much! We were... read more told that Matt would be our guide for our tour and we are so pleased to have had him, he is amazing and great fun! His passion for the rainforest (and all nature) is so clearly communicated and he has left us with a new appreciated for the circle of life. There was never a silent moment, except for when we were close to an amazing animal, because Matt had such interesting knowledge to share.

To enter the rainforest, we first needed to cross the Daintree river which we did via a crocodile cruise (and saw 2). On the other side of the river, Matt began the rainforest tour by asking us if there was anything in particular that we wanted to see and we told him that we'd love to see a cassowary. Upon arrival at the first rainforest walk, we rushed up to the area where the previous tour had spotted a cassowary and found it. It was a teenage one but still had the beautiful markings on its neck that we admired. Matt pointed out lots of plants and taught us about their behaviour and contribution to the rainforest.

We went for dinner at a restaurant which FNQ had not tried before because the usual one had shut for the low season. However, we thoroughly enjoyed our meal (the chips were excellent )!

We had a full moon for our night walk so we didn't see many mammals but we saw plenty of insects. Our highlight was spotting a shiny flycatcher guarding her nest in which three babies were sleeping.

SusieD01


2/09/2020

During our 11-day Australia vacation we spent two days with FNQ Nature Tours, firstly in the Atherton tablelands and secondly in the Daintree rainforest. Both days our guides were... read more fantastic, extremely knowledgeable, engaging constantly with our two boys and their endless questions, and friendly & professional throughout. Both days a delicious meal at a local restaurant was provided as well.

frednope123


2/07/2020
The Backstory Matt and Andre embarked on their inaugural "Big Year" challenge in 2019. Their goal was to learn more about the birds of North Queensland, have fun and of course WIN!! The aim of the competition is to sight as many birds within Queensland as possible,...
read more
Follow our wildlife story on Instagram!
READ OUR FAQS FOR MORE
INFO ABOUT OUR EPIC TOURS