EXPLORE FAR NORTH QUEENSLAND WITH US
Far North Queensland is a wildlife enthusiast's paradise! Our small group tours explore the rainforest habitat, concentrating on the endemic wildlife found within. We have a firm belief that tourism is the key to the protection and conservation of this World Heritage Area. Our passionate and knowledgable guides are eager to share the Wet Tropics World Heritage Area with you. Allow us to take you on this unforgettable Journey!
SMALL GROUPS
Our group sizes are a minimum of two and a maximum of seven guests. This allows our guides the freedom to focus and cater to our guest's personal interests. Our goal is to create the best visitor experience for our valued customers.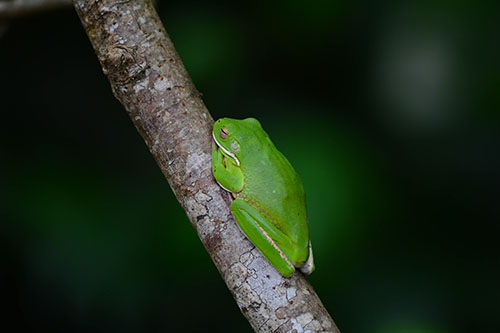 WILDLIFE FOCUS
Our tours have a major focus on observing and photographing wildlife. We are proud to be active ambassadors for the wonderful creatures that call Far North Queensland home. It's not uncommon for us to observe a Southern Cassowary, Tree Kangaroo and Platypus on a single tour!
OUR SERVICE
Our level of service is incomparable to other operators because FNQ Nature Tours understands the priceless value of memorable experiences. Our unforgettable tours are captivating, genuine and authentic. Our team will go above and beyond to ensure that your journey is unsurpassed.
MORE TIME IN NATURE
The trails and boardwalks we access are the longest and most immersive compared with other commercial operators. In addition, many of our nature viewing locations are on private land or reserves for complete exclusivity. This increases the opportunities for our guests to observe wildlife in the wild.
We had a great time and James was a great tour guide. His passion and enthusiasm for the wildlife and nature was admirable, and we learnt heaps of interesting facts.... read more From the moment we got into the car, it was obvious this was going to be a good trip. Our solar boat cruise was the highlight, especially seeing so many modelling crocs and Doug the dog. Our cruise guide was a fantastic spotter, and we were so lucky to see some young crocodiles, tree snakes and frogs. The hike in the Daintree was also incredible, most notably James' knowledge about the forest and the native plants. The lunch provided was also delicious, particularly learning about and trying some seasonal and exotic fruits. Overall, would recommend, especially for nature lovers and those keen to try something different!

927karenz


7/10/2021

Just spent four full days on a small group tour with these folk, going to some of the most nature rewarding places in FNQ with truly dedicated and professional... read more guides that opened doors to many incredible places, not normally accessible to just any nature-hungry traveler and got some rewarding and unique experiences; and, good visitation to some of the iconic locations in FNQ. Good stuff!

BellthorpeDave


6/16/2021

Everything about this tour was spot on. Kelvin picked us up at our accommodation on time, personalized every aspect of this experience and showed an incredible level of knowledge and... read more respect. We were fortunate to witness scarface the enormous croc and 2 large, healthy mature cassowaries on our trip!

The solar boat tour along the river was fantastic. No real fumes or noise and a small group that really enjoyed sharing the spotting experience. Walking on the boardwalk at night was also a great experience. It is worth every penny we spent. Even the dinner was good. If every tourism operator in the area delivered this kind of quality FNQ would excel.

Thanks to the Queensland government's holiday dollars we were able to participate in an extraordinary experience.

nomwo


5/20/2021

My husband and I had the pleasure of Matt taking us on the afternoon Nocturnal tour. Matt is a wonderful guide, such a broad knowledge and great sense of... read more humour. This tour was our most enjoyable of our trip to North QLD. We didn't see any cassowaries on our tour but Matt showed us the peculiar animals that come out at night, some we have never heard of before. I will be recommending this company to all our friends and feel 100% sure that they will be looked after. Thank you so much for making our time in North QLD so enjoyable!

roslynb16


5/14/2021

In short: our trip was amazing! We had the privilege of having Matt as our tour guide and his knowledge and enthousiasm about wildlife and the general rainforest made the... read more trip extra special. We really enjoyed the boat trip over the river and were lucky enough to spot 2 mums with their baby crocs! The dinner was great and the night walks we did felt very special. Although it was quite a quiet night with regard to wildlife, we enjoyed meeting the peppermint stick insects, the small crabs and the massive grasshoppers roaming around the dark rainforest. Definitely recommend this tour to anyone!

Ay1990


4/05/2021

My experience with FNQ Nature Tours was a highlight of my trip to Port Douglas. From start to finish, I was just so impressed.

I toured with Kelvin and... read more his knowledge about the region, and passion for the wildlife and the environment was impressive, particularly as it was my first time in the area.

I chose to do the afternoon Daintree tour as I liked the idea of seeing the Daintree at night to see more animals in their native habitat. Well Lady
Luck was sure on my side this day. To be able to see Scarface, the king of the river, sunning himself on the river bed was special enough, but to see 8, day old, crocodiles and their mum while cruising up the Daintree River was a once in a life time experience.

Visiting the Daintree and Cape Tribulation as the sun was going down and then in the dark, with hardly anyone else around was so, so special. Kelvin identified all the trees, birds, insects and yes, pythons, that we saw along the way.

I was looked after the entire trip, being picked up from my hotel right on time, provided dinner and snacks throughout, and being returned later that evening, still buzzing about all I'd experienced.

James went out of his way to ensure I could experience the Daintree with his business and I'm so grateful he did. I would NEVER have been able to see so much on my own, or recognise a 10th of the flora and fauna I saw on this tour. Thanks James and Kelvin.

travlntheblood


3/20/2021

I had the pleasure of joining FNQ Nature Tours on a afternoon night spotting tour. I am a Cairns local and boy was I impressed. The knowledge of the team... read more enabled me to see in the wild many trees, marsupials, reptiles and bugs that had ever been brought to my attention before and how they all live symbiotically together. The scenery is so rich in life and the commentary so deep in knowledge that I have a new appreciation of how lucky I am to live in such an environmentally diverse area of the world.

From crocodiles to stick insects, from beaches lined with reefs to dense tropical rainforests, you will not want to miss out on this companies tours. I cant wait to go again.

95micks


3/15/2021

My three day private tour with James was unbelievably good. James is an amazing ambassador for Far North Queensland, and his love for the region is infectious! Having travelled to... read more a number of countries around the world, to be able to say that an interstate 'getaway' is up there with the best experiences I've had, tells you all you need to know. What sets James (and FNQ Nature Tours) apart, is the local knowledge, enthusiasm and personalisation. I was interested in birdwatching and photography, and James was able to deliver on spectacular sightings and photographic opportunities. I can't recommend this operator enough and look forward to my next visit to Cairns - because it will no doubt include a tour with James!

blairwickham


11/23/2020
The Backstory Matt and Andre embarked on their inaugural "Big Year" challenge in 2019. Their goal was to learn more about the birds of North Queensland, have fun and of course WIN!! The aim of the competition is to sight as many birds within Queensland as possible,...
read more
Follow our wildlife story on Instagram!
READ OUR FAQS FOR MORE
INFO ABOUT OUR EPIC TOURS