EXPLORE FAR NORTH QUEENSLAND WITH US
Far North Queensland is a wildlife enthusiast's paradise! Our small group tours explore the rainforest habitat, concentrating on the endemic wildlife found within. We have a firm belief that tourism is the key to the protection and conservation of this World Heritage Area. Our passionate and knowledgable guides are eager to share the Wet Tropics World Heritage Area with you. Allow us to take you on this unforgettable Journey!
SMALL GROUPS
Our group sizes are a minimum of two and a maximum of seven guests. This allows our guides the freedom to focus and cater to our guest's personal interests. Our goal is to create the best visitor experience for our valued customers.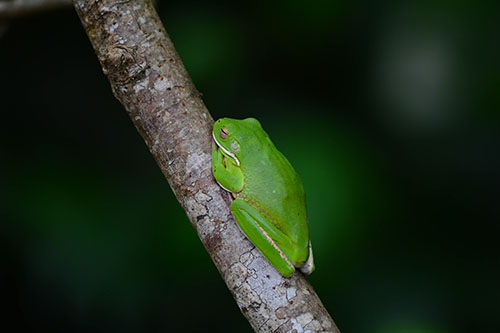 WILDLIFE FOCUS
Our tours have a major focus on observing and photographing wildlife. We are proud to be active ambassadors for the wonderful creatures that call Far North Queensland home. It's not uncommon for us to observe a Southern Cassowary, Tree Kangaroo and Platypus on a single tour!
OUR SERVICE
Our level of service is incomparable to other operators because FNQ Nature Tours understands the priceless value of memorable experiences. Our unforgettable tours are captivating, genuine and authentic. Our team will go above and beyond to ensure that your journey is unsurpassed.
MORE TIME IN NATURE
The trails and boardwalks we access are the longest and most immersive compared with other commercial operators. In addition, many of our nature viewing locations are on private land or reserves for complete exclusivity. This increases the opportunities for our guests to observe wildlife in the wild.
SHARED TOUR | FULL DAY
DEPARTS: CAIRNS, NORTHERN BEACHES, AND PORT DOUGLAS
$375 AUD PER PERSON
DAINTREE EXCLUSIVE TOUR
PRIVATE TOUR | FULL DAY
DEPARTS: CAIRNS, NORTHERN BEACHES, AND PORT DOUGLAS
FROM $1,560* AUD
TABLELANDS EXCLUSIVE TOUR
PRIVATE TOUR | FULL DAY
DEPARTS: CAIRNS AND NORTHERN BEACHES
FROM $1,560* AUD
An outstanding day in the Atherton Tablelands rainforests and
lake region. Matt and Rowen were perfect guides. Their knowledge about the rainforest wildlife and foliage was amazing.... read more Each time a bird called Matt identified it, and he constantly had his binoculars out searching for tree kangaroos, dragon lizards, platypus and a possum unique to the area. We had mixed results, seeing several species but not all..and clearly it was not for lack of trying. All in all a day well spent.

A2Traveler30


February 8, 2023
2023 winner of: 'TNQ Tourism Industry Excellence Award' by Best of Queensland experience program
Based on an independent set of criteria which include online customer reviews, company response to consumer expectations, social media activity and industry best practice, the FNQ Nature Tours team is proud to receive this 2023 'Best of Queensland Experience Program' award!
The Backstory Matt and Andre embarked on their inaugural "Big Year" challenge in 2019. Their goal was to learn more about the birds of North Queensland, have fun and of course WIN!! The aim of the competition is to sight as many birds within Queensland as possible,...
read more
Follow our wildlife story on Instagram!
READ OUR FAQS FOR MORE
INFO ABOUT OUR EPIC TOURS